Attend The Ultimate 5-Day Coaching Clinic
Be the Smartest Coach on the Floor and You'll Win More Games
Want to See What We Teach at PGC?
Get an introduction to a PGC classroom, court, and film session.
Get an Inside Look at a PGC Week…
Every coach wants their team to achieve its full potential.
Yet most teams come nowhere close.
This off-season, discover how to create a championship culture, get your team better shots, maximize your practice time, and make your team unstoppable.
How It Works
At your PGC course, you'll attend the daily classroom, film, and court sessions with players and coaches alike.
You'll see how our Director transforms 80+ players into a cohesive unit in hours — and you'll benefit from daily interactions with our staff and other like­-minded coaches.
Due to restrictions, many sessions will have a max limit of 12 coaches. Don't miss out, as spots will fill quickly.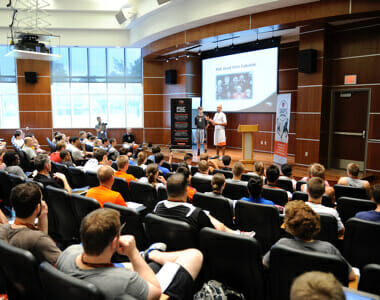 This past summer I attended PGC with 3 of my players. Our season recently came to an end with an overall record of 25-4. We won the school's first district championship since 1991. I attribute a large amount of this success to Point Guard College. The things you teach are invaluable in so many ways. Thank you.
Don't Settle for Typical Clinics
Sure, you can attend a typical coaching clinic to pick up some drills and a few offensive sets…
But there's no place on the planet to discover how to teach your players basketball IQ, leadership, communication, mindset, and confidence — except PGC.
And if you don't know how to truly teach and instill each of these, your teams will never achieve their full potential.
But once you do, you'll win more games — guaranteed.
That's why you're invited you to join over 7,500 coaches who have attended a PGC course.
And, to make it an absolute no-brainer, we've significantly reduced the tuition fee for coaches.
So come be our guest this summer…
Want the Smartest Team on the Court Next Season?
Don't leave it to chance — bring your key leaders and playmakers to PGC so you all develop a common language, basketball IQ, and mindset.
Schedule a Callback
Have questions but don't have the time now? Choose a date and time that's more convenient for you and we'll call you.
Ready to Transform Your Game?

1. Find Your Course
Find a date and location that fits your schedule

2. Reserve Your Spot
Book your session before it sells out

3. Transform Your Coaching
Become the coach you're meant to be
Hands-down the best basketball coaching clinic I've ever attended. I've listened to Geno Auriemma, Bobby Knight, Coach K, and many more, but I've never felt so inspired to change the way I teach the game.
Coach Lexa Larsen
Richfield, Utah
What coaches say
My first PGC experience has changed the entire trajectory of my coaching career and my life. I have been around the game my entire life and have never experienced such intellect and poise. Marke Freeman and the PGC staff explode with knowledge, work ethic, and gratitude. I am honored to have listened and learned from such inspiring individuals from a phenomenal organization.
This was my third time attending PGC as a coach — it truly is a great experience. I'm amazed by the knowledge that players and coaches walk away with. The way everything is presented, demonstrated, and executed by the directors makes it easy to remember and bring home.
This was by far the best investment I have ever made as a coach! Tyler Coston and his staff are truly lights for the game! I will leave this week a more energetic and enthusiastic coach!
There are not many times that I think I got more than I paid for, but as far as I am concerned, you couldn't charge enough for the experience my son and I both had. I believe this week at PGC will change my son's life, as well as my own. I am going to use S.C.H.A.P.E. with all of my teams and we have already instituted your leadership principals in my own home!
All of the gym sessions were game-like and served a definite purpose. It's awesome how the points of emphasis were reinforced... I've been to approximately 50 basketball camps, and you truly have the BEST teaching program in America.