We're a team of passionate teachers of the game who won't stop at anything in our quest to inspire and equip dedicated players and coaches everywhere.
Nearly 25 years ago, Mano Watsa attended Point Guard College as a player with PGC Founder Dick DeVenzio.
Now, as the President of PGC, Mano has dedicated his life to carrying on Dick's legacy.
In this brief video, Mano shares about the type of staff, coaches, and players PGC attracts.
About Our Directors
At many camps, the directors is a celebrity athlete or coach who lends their name to the program — but little else. At PGC, your director will know you by name, personally teach each session, and be available to talk with you.
Read about each of our Directors below by clicking on their photo.
Adam Turner
Brett Cannon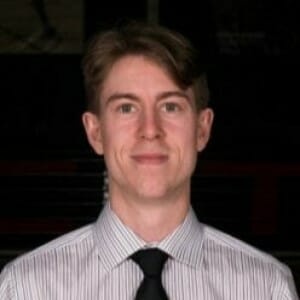 Clinton Cybulski
- SOLD OUT -
Craig Nickel
Dustin Aubert
Edward LeBlanc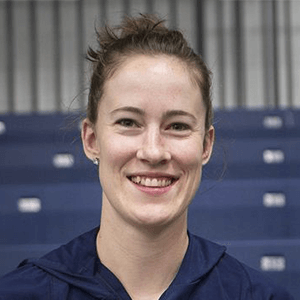 Emma Duinker
Graham Maxwell
Jamie Pewinski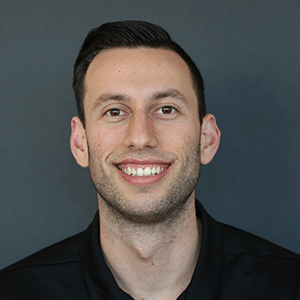 Kyle Koszuta
- SOLD OUT -
Lili Thompson
Marke Freeman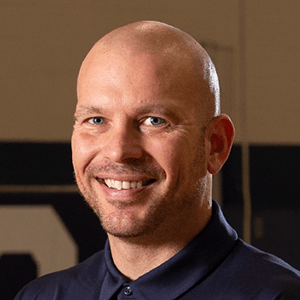 Matt McLeod
- SOLD OUT -
Megan Gaudreau
Micah Mills
Rob Cross
Robby Bostain
Rudy Bentley Jr.
Vera Jo Bustos
Adam Turner
Adam Turner has helped hundreds of players achieve their dream of playing college basketball. As a former 2-time college All-American and current college coach, he has discovered many players have the talent to play in college but don't know what it takes to make it a reality.
Adam's desire is to see every dedicated player be truly prepared to make their dreams a reality.
Adam specializes in helping players achieve their goals through individual basketball development, leadership training, and walking the college recruitment tightrope. Not only has he developed a comprehensive student-athlete leadership program for college athletes, but Adam has also worked with current NBA players like Kyrie Irving and Karl Anthony Towns.
Adam looks forward to helping you develop a comprehensive strategy to achieve success on and off the court.
I came into Coach Turner's program as someone who thought they had a well-rounded knowledge of the game of basketball, but the everyday learning culture that Coach Turner created showed me how much more there was to explore. When it comes to both X's and O's and player development, Coach Turner opened doors in my game that I didn't even know were there. He helped me build a mindset that set me apart on and off the court.

– Harry Johnson, former Bard College basketball player
Brett Cannon
Brett Cannon, a former standout at the college and professional levels, is an expert in getting the most out of a player's basketball journey. Brett knows what it is like to be overlooked, feel under-recruited, and have people doubt in his abilities. What makes Brett special is that he didn't listen to those doubters. Instead, he stayed determined, worked hard, and became the best version of himself, eventually leading his college team to back-to-back NCAA tournaments and setting the school record for triple-doubles in the process.
Since finishing his professional career in Europe, Brett has focused on giving back to other players and helping them develop a personalized plan to overcome obstacles and achieve their dreams as both a player and a leader. He's worked with players of all levels, been mentored by some of the game's best teachers and is ready to share his knowledge with the next wave of athletes who are ready to take their game to new heights.
Being mentored by Brett is a guaranteed way to jumpstart training for any athlete. If you want to be challenged and inspired to a new level, he is the trainer for you!
Clinton Cybulski
Sold Out
Clinton Cybulski is living proof that hard work beats talent when talent isn't working hard. Despite being an undersized guard who didn't start playing basketball until tenth grade, Clint realized his dreams of playing college basketball, winning a national championship, and becoming a professional coach and skills trainer. He knows how hard it is to earn playing time and build confidence as an undersized, undervalued, and overlooked player.
Clinton is on a mission to equip players to reach their potential, become confident in their game, and experience fulfillment in their careers. Through diligent work and intentional preparation, he has already mentored over 8,000 players. That experience equipped him with the ability to customize a comprehensive plan for any athlete eager to improve. He's worked with players at all levels – from middle school to the professional ranks – and is ready to do the same for you.
When you decide to work with Clinton, you are choosing to improve your game AND be mentored by a master teacher. He will equip you with the necessary daily habits to become a confident player and leader. Your life will never be the same.
Craig Nickel
Craig Nickel is a highly decorated coach that has helped players all across Canada for more than two decades. Not only has he helped dozens of players play in college, but he's also helped them to the professional level – and even the Olympics!
Through his experience, Craig knows what it's like for athletes to struggle to find a way to reach their goals, and he's made it his life's work to help them take the lessons they learn on the court to even greater success in their personal lives. Off the court, Craig specializes in leadership development and helping people push their limits and strive for greatness.
Any athlete who gets to work with Craig Nickel will instantly improve their performance on the court while also improving their personal life.
Coach Craig always encouraged me to push my limits and strive for greatness.

— Emma Cherwinski, PGC Grad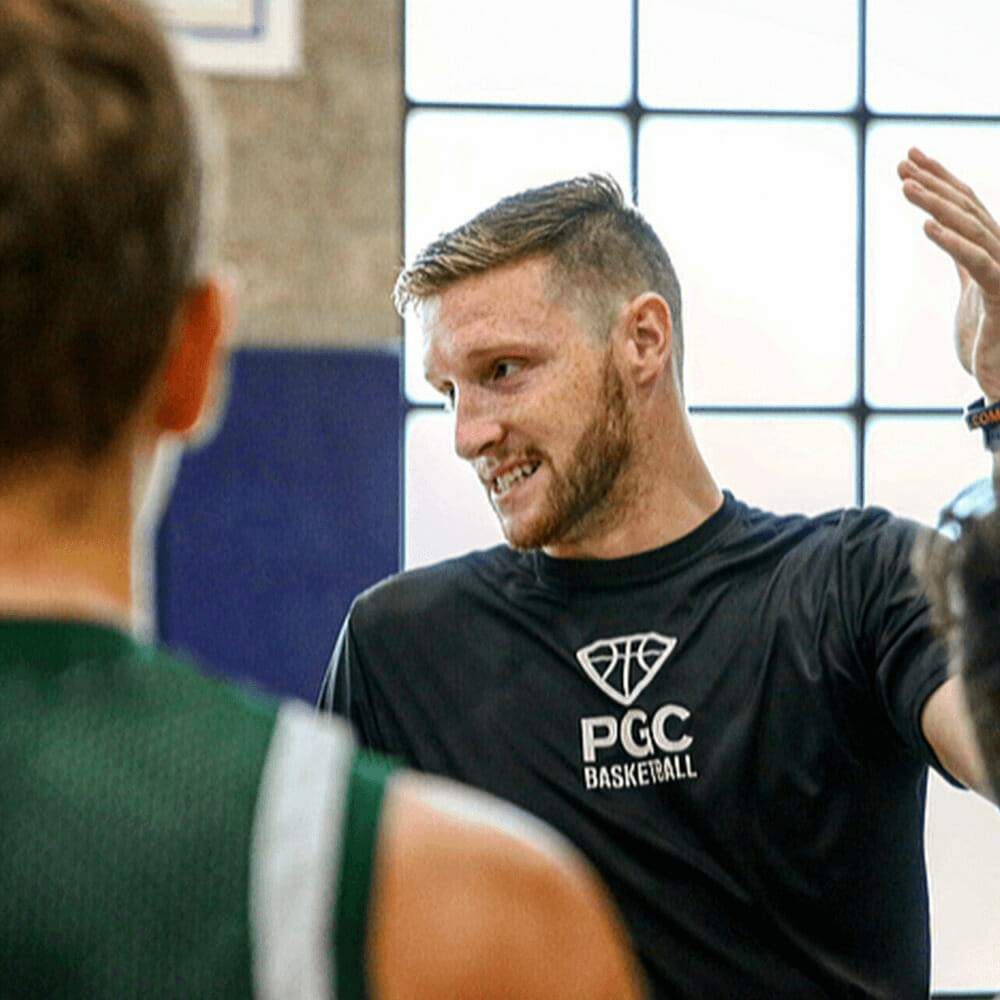 Dustin Aubert
Dustin Aubert knows what it's like to be a high school athlete who wants to make the most of himself and play at the next level. After finishing a successful college basketball career, Dustin has dedicated himself to paying it forward – helping hundreds of athletes pursue and accomplish great things with their own careers.
Whether it's been coaching at the NCAA Division I level, working out current NBA players, or serving as a head coach at the college level, Dustin has a proven track record for creating detailed and customized plans to help players encounter massive gains in their skill sets.
Being mentored by Dustin is a game-changing experience for any athlete. If you want to be inspired to a whole new level of work ethic, he is the trainer for you!
Working out with Coach Aubert has really helped me on and off the court. He pushes you to be better than you were the day before, and I can really see that I have become a better player since working with him. More than anything he really cares about you as a person, and will do anything in his power to help you succeed and get to where you want to be.

– Jay Nagle, current UCSB basketball player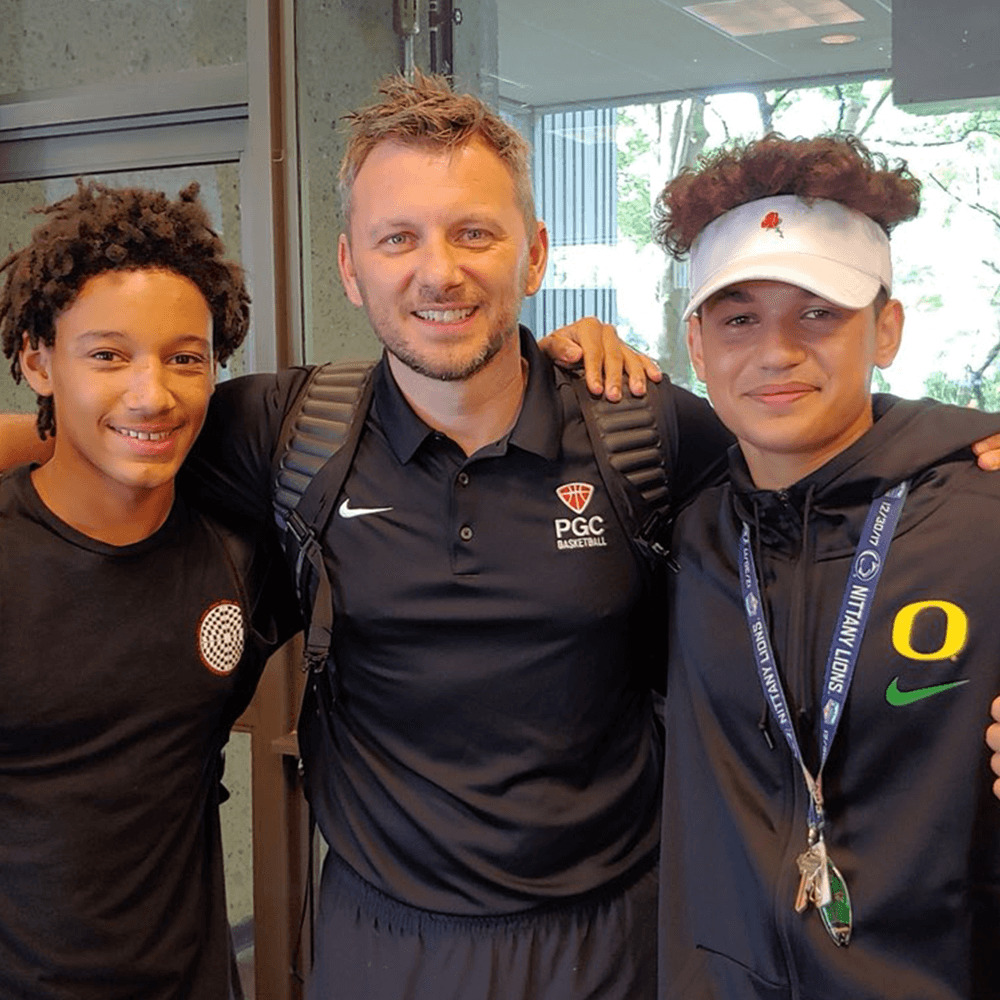 Edward LeBlanc
Edward LeBlanc is a world-renowned basketball teacher and innovative mind. Through his work with players at all levels he has seen the frustration so many players have when they achieve so much less than they are capable of.
Edward is a problem-solver, passionate to see all basketball players and coaches improve daily and feel the sense of satisfaction that comes from realizing their potential.
Edward also has extensive experience in building customized training programs and giving athletes and coaches the secret 1% enhancements that unlock a breakthrough. His ability as a master teacher is clearly evident, leading to development across all levels.
Edward will help you change the way you think, see, and play the game of basketball.
Coach Ed helped me not only helped me improve and change my game but he always changed my outlook at life. He was by far the greatest instructor I've ever been with and this camp will always hold a special place in my heart.

– Kylie Morrison, PGC Grad
Emma Duinker
When it comes to the basketball world, Emma Duinker has had her hands on it all. She's played professionally, coached collegiately, and trained athletes individually. Through her experience, Emma's become adept at recognizing what confuses and frustrates players the most, while also learning how to empower those players to solve their own problems.
As a head coach at the University of Windsor and lead trainer for Canada Basketball's developmental program, Emma mentored athletes on the court, created individual training plans off it, broke down film in the classroom, and helped guide athletes to academic success.
Choosing to work with Emma is deciding to instantly build your knowledge base, expand your game, and improve your life.
Through Emma's intense mentorship, Reighan's skills on the court improved drastically. Most notable was Reighan's newfound leadership skills. Emma's enthusiasm is so contagious that simply being in her presence motivates and inspires others to work harder. Emma taught Reighan how to give positive energy and create a positive environment even in difficult situations. Emma is an inspiration as she models leadership and helps young women to develop into future leaders both on and off the court.

– Christina Toffolo, Mother of Reighan Toffolo (Current University of Windsor basketball commit)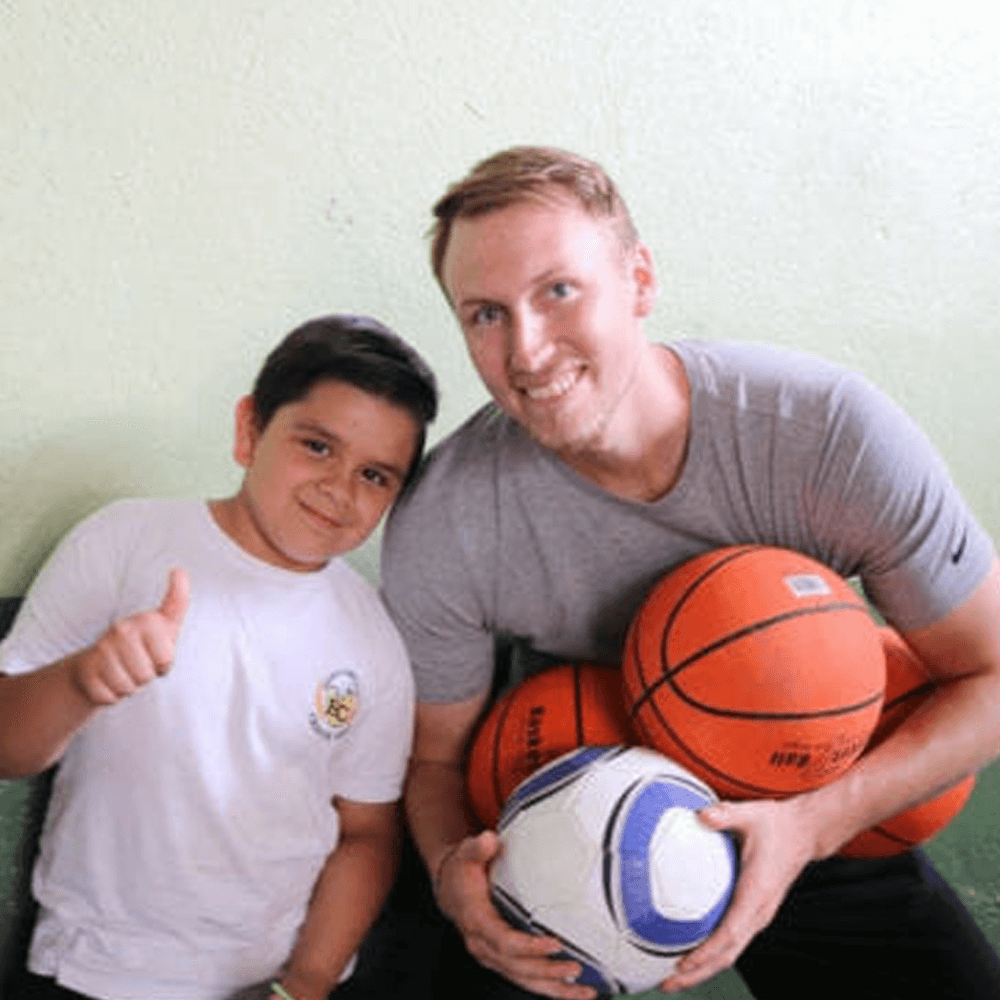 Graham Maxwell
Graham Maxwell, a nationally recognized college basketball coach, has worked 1-on-1 with athletes of all ages — from elementary school to the pro level. He's witnessed numerous players going through their careers confused and overwhelmed and has committed himself to mentoring players so they avoid that disappointment.
To simply describe Graham as a basketball coach would be an understatement. He's a dynamic teacher who masterfully grasps player development. He's an innovative thinker who understands there's no one size fits all strategy. He's a clear communicator who can articulate and guide through the complicated recruiting process. He's a versatile thinker who can help players break down film so they improve faster.
If you want to get inside access with one of the great young minds in the game today, Graham is your guy!
Graham is the most genuinely caring coach I have ever met; not only about the players skill set, but more importantly their day to day character and walk with Christ. Graham was the youngest and most eager to learn coach I've ever had, therefore he was always able to guide me through the progressions of college basketball and life because he had just recently endured the same.


–
– Zach Lillie, former Emmanuel College basketball player
Jamie Pewinski
With more than 20 years of experience coaching at the collegiate level, Jamie Pewinski knows what it takes to master the little things that lead to enormous success. Not only has she seen what success looks like at the highest level, but she's helped players at the lowest levels become the best version of themselves.
Jamie specializes in skill development and helping players develop the mindset that will help them overcome any challenge. Jamie is inspired by those who constantly strive to do and be better. Those who are willing to learn and respond to adversity in a positive way.
If you want to maximize your potential as a player, Jamie is the trainer for you! Don't miss out on an opportunity to grow your game like never before.
Kyle Koszuta
Sold Out
Kyle, a former NCAA Division I college basketball player, knows what it feels like to grow up in a small town, get overlooked by coaches, and feel like you aren't getting the respect you deserve — but still achieve the goal.
He's trained with NBA players, been mentored by master teachers, and become equipped to help the next generation of athletes reach their dreams. Kyle, who's also a comedian, strikes a balance between keeping the game fun and challenging his athletes to get outside their comfort zone.
He's worked with numerous athletes breaking down film, creating development plans, and building new habits — so players achieve things they never thought possible. After working with Kyle, you won't only have an improved basketball game, your life will be different.
Kyle has an infectious energy and unique ability to connect with players. He constantly communicated "the why" behind the what and consistently challenged my son Drew to get outside his comfort zone — while keeping it fun at the same time. Drew left sessions with Kyle energized to implement what he learned, and confident for his upcoming tryouts.


– Chuck Malani, father of Drew Malani
Lili Thompson
As a former NCAA All-American, D1 national champion, and Team USA athlete, Lili Thompson knows what it takes to overcome adversity and master success. Today she's on a mission to help players overcome their own setbacks and disappoint to accomplish great things – both on the court and in their personal life.
Lili has crafted a systematized plan that she personalizes to the individual needs and specific desires of the athletes she works with. Just as her own career showcased Lili's abilities at the highest levels, she now specializes in mentorship plans for skill development and mental toughness.
If you get the chance to work with Lili 1-on-1, your basketball game will never be the same. You will know what it's like to feel the sense of accomplishment that comes from learning from one of the world's top basketball trainers.
Lili was a great trainer and mentor. Getting to work one on one with her helped me improve more quickly and it boosted my confidence.

– Abby W. (family asked not to share the last name)
Marke Freeman
Marke Freeman has impacted thousands of athletes on their basketball and life journeys. As a former professional basketball player, current business owner, and a budding star in the sports broadcasting industry, Marke comes equipped with a range of experience. Like you, she's faced numerous challenges but understands the power that belief, preparation, and mindset can have on the journey to greatness.
Marke's played for and coached with some of the game's top basketball minds, helping her build a profound knowledge of the game and mastery of player development and mentorship. Not only was she highly recruited as an athlete, but she's recruited athletes from coast to coast and understands every detail of the recruiting process.
If you want to change your life, sign up to work with Marke. She will help you prioritize your training plan and build daily habits that last so don't have to walk this path alone.
Marke's impact on me as a player but more importantly as a person has been monumental. From PGC camps to many 1-on-1 phone conversations, Marke helped me take the adverse situations I was facing in basketball and life and use that adversity and uncomfortableness to grow. Marke found a way to take what PGC teaches and use her own experience along with her unique personality, enthusiasm, and ability to connect with others to help me not only see what I am capable of but to actually pursue that version of myself. Statistics could show you I'm a better basketball player since having met Marke, but the intangible impact she's had on me as a leader and person can't be quantified.

– Sarah Bohn, Current basketball player at Army
Matt McLeod
Sold Out
Matt McLeod has changed the lives of thousands of players through his work as a basketball coach and leadership development specialist. He has worked with players and coaches all across the country and at all levels – from middle school to the NBA. Regardless of a player's level, Matt is committed to helping others overcome setbacks and disappointment to achieve the greatness that's inside of them.
A highly decorated and nationally respected coach, Matt partners with players to establish personalized programs that help achieve their dreams of playing basketball at the college level. He also has extensive 1-on-1 mentorship experience focused on mental training and accountability that has altered the career trajectory of players and coaches alike.
If you want to change the way you approach the game of basketball and reach new leadership heights, Matt is the trainer for you. His mentorship will allow you to feel a newfound sense of accomplishment that comes from working with one of the game's best.
Megan Gaudreau
Megan, a former college basketball player and nationally recognized three-point shooter, is one of the most passionate young teachers in the game today. She teaches with clarity, leads with care, connects with empathy, and inspires her athletes to be better versions of themselves.
Megan, who felt undervalued and underrecruited coming out of high school, understands the frustrations and overwhelming feelings the sport can bring to players. Through her own training business and her work with PGC Basketball, Meg commits to helping players navigate challenging waters. She's guided hundreds of athletes through training plans, leadership habits, and life goals.
Meg isn't just one of the most incredible basketball teachers in the country, she's someone who will care for you, give you truth, and help you get to the place you want to be.
Micah Mills
As a former college player and current associate head coach, Micah Mills has become masterful at teaching the game, developing players, and designing training programs for hungry athletes. In addition to his current work at the collegiate level, Micah has worked with thousands of athletes (including NBA players like Markelle Fultz.) Micah used that experience to become a master of player development and 1-on-1 mentorship.
As a player, Micah possessed a laser-like focus on his game that turned hours of hard work into becoming a three-time college captain and the school's all-time leader in assists. He knows what it's like to grow up with those, "what do I need to do to get better" thoughts. It's why he's become so dedicated to connecting with and growing the next generation of athletes.
If you get to work with Micah, you'll skyrocket your improvement, master your mind, and improve your game.
Over the past 5 years, Micah has become apart of my family because of his willingness to support everything that I do and push me to be better on and off the court. He is extremely kind, funny, and laid back but not afraid to tell the truth for the betterment of myself as a whole. Everything that we've done on and off the court has had purpose and as my mentor he's helped me continue to develop my work ethic by pushing me beyond what I thought my limits were when we work out. I couldn't be more grateful to have him in my life.

– Mya Jackson
Rob Cross
For Rob Cross, it wasn't always obvious he would be a Division 1 basketball player. In fact, as an 8th grader, Rob was cut from the team and told he'd never be good enough to play high school ball. Instead of shutting down, Rob got back in the gym, found a trainer, and four years later was starting on varsity, eventually walking on at Vanderbilt. Rob knows that the key to success is a good plan, a good guide, and the willingness to show up.
Over the years, Rob has worked with hundreds of athletes, ranging from youth to professional, helping them develop the mindsets and skills they need to become the player, and person, that they desire to be.
If you're looking for fun and focused training that is centered around helping you become the truest version of yourself, on and off the court, Rob is the trainer for you.
Robby Bostain
Robby Bostain knows success. After an all-conference college career, Robby spent seven years playing at the professional level. And after winning a European national championship in 2010, he returned home to help other athletes find the same success he had grown used to.
Robby also has extensive experience building personalized training programs for athletes that help them reach new heights with their game. He is a master teacher that doesn't shy away from pushing his athletes in ways they've never felt before.
If you want help crafting a laser-focused strategy to achieve success on and off the court, then Robby is the trainer for you!
Rudy Bentley Jr.
Rudy Bentley, a four-year college starter and former collegiate coach, has transformed the journey of players and coaches all across the globe. Rudy knows what it's like to be undervalued, feel overlooked, and face adversity, but unlike so many high school athletes, he didn't let those circumstances get the best of him. He persevered and overame.
Since graduating from college, Rudy's life has been a mission of impact. Whether it is basketball skill development, film breakdown, or life coaching, Rudy is ready and able to assist athletes across all levels in building specific training plans to fit their needs, abilities, and desires.
Join with hundreds of other athletes and feel the confidence and satisfaction that comes from improving. Once you experience working with Rudy you will feel just how impactful a 1-on-1 mentoring relationship can be.
Rudy Bentley Jr. has been a mentor, trainer, and like another big brother to me for as long as I can remember. He's assisted me the past few years in skills on and off the court that have helped me propel myself to a career playing basketball overseas. He's such a selfless person and always makes time to work with me, even though sometimes I know I can be hard to work with. Any question I have regarding anything on and off the court I know he can provide some valuable insight or words that can positively contribute to my way of thinking or my basketball game.

– Emmanuel Oby, professional basketball player, England
Vera Jo Bustos
As a hall of fame college player, Division 1 coach and personal mental trainer, Vera Jo Bustos has found success at every level. She knows what it's like to deal with adversity, be challenged by pressure and feel worried. As an athlete these challenges keep you from achieving your goals.
Vera Jo has developed a program that will lead to a breakthrough in the areas of mental toughness and confidence. She specializes in assisting athletes in developing the physical and mental skills needed for peak performance.
If you get to work with Vera Jo you will learn the secrets of a Hall of Fame player, high-level coach and feel the personal attention she gives each of the athletes she leads to higher levels of performance.
I am writing in appreciation for the time you spent in the PGC 1-on-1 mentoring program with my daughter Kendall Harris. Her time with you meant a lot to her. She didn't want to share much with my wife and me because she said "this is my thing, Dad", but I can certainly tell that she was impacted.

Kendall took all the trainings very seriously and was always eager to meet with you. She has improved her skills – in particularly shooting – quite a bit during this pandemic. Your time with her helped enhance her performance and provide motivation to get out in the driveway each day. Confidence (tied to having a terrible mistake response) has been a tremendous issue with her and I hope she can move in a more positive direction towards her goal of having a successful next 3 years in high school, with hopes of playing in college.

Thank you for serving Kendall this past month,

— Mike Harris, Parent