On Talking to Teammates, Helping Others Become Winners, and Managing Our Lives
August 31 | The 3-Point Play
BASKETBALL TIP
Talking to teammates is one of the most obvious differences between good players and mediocre ones.
Good players call out their man each time on defense, they talk their teammates through screens, and alert them of cutters.
Less-experienced players tend to think that many of these situations are obvious. But these situations are not always obvious. Talking is very often what makes them obvious.
Talking helps a team coordinate its activities, assures that everyone is working together, and encourages players to do decisively what they otherwise may do haphazardly or a second too late.
---
LEADERSHIP LESSON
"An effective leader will make it a priority to help his or her people produce good results in two ways: making sure people know what their goals are and doing everything possible to support, encourage, and coach them to accomplish those goals. Your role as a leader is even more important than you might imagine. You have the power to help people become winners."
– Kenneth H. Blanchard
---
LIFE PRINCIPLE
"Who's in charge—the thinker or the thought?" Are we managing our own lives according to our own values and what is important to us, or are we simply being carried along by the tide?"
– Susan David
---
New Here?
Welcome to the 3-Point Play, where you'll get a quick dose of wisdom to enhance your game and life.
Whether you're a player, parent, or coach, join to get a:

basketball tip,
leadership lesson,
and life principle
…that's easy to apply to your life.
---
---
Related Articles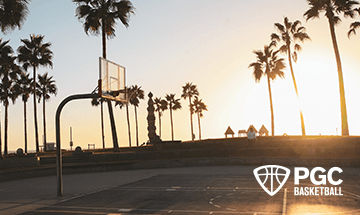 About PGC
PGC Basketball provides intense, no-nonsense basketball training for players and coaches. Our basketball camps are designed to teach players of all positions to play smart basketball, be coaches on the court, and be leaders in practices, games and in everyday life.
We combine our unique PGC culture with a variety of teaching methods and learning environments to maximize the learning potential of those that attend our sessions. In addition to spending 6-7 hours on the court each day, lessons will be reinforced through classroom sessions and video analysis.
Our goal at PGC is to empower you with the tools to fulfill your basketball dreams, while also assisting you in experiencing the joy of the journey.
To learn more about PGC Basketball, including additional basketball training tips and videos, visit our YouTube Channel or find us on Facebook, Instagram, and Twitter.