On Measuring Performance, Bouncing Back, and Study Buddies
Nov. 24 | The 3-Point Play
BASKETBALL TEACHING
Most players struggle with their confidence because they don't measure their performance.
You are your ideal opponent. The best way to improve is to compete ferociously against your perfectly matched competitor, You-Yesterday.
And there is no better way to do that than by charting and measuring.
If you don't have a chart on your wall or a notebook under your bed—some way of comparing your competitive effort—you aren't practicing effectively to improve.
 
― Dick DeVenzio
Founder of PGC
---
LIFE LESSON
"Leaders must be tough enough to fight, tender enough to cry, human enough to make mistakes, humble enough to admit them, strong enough to absorb the pain, and resilient enough to bounce back and keep on moving."
– Jesse Jackson
---
EDUCATIONAL TIP
Want to know an easy way to get more A's in school without trying harder? All you have to do is find a study buddy who can hold you accountable.
People are 65% likely to meet a goal after committing to another person. In school that's a D.
If you want to skyrocket your odds of success to 95%, quit studying alone.
New Here?
Welcome to the 3-Point Play, where you'll get a quick dose of wisdom to enhance your game and life.
Whether you're a player, parent, or coach, join to get a:

basketball teaching,
life lesson,
and educational tip
…that's easy to apply to your life.
---
---
Related Articles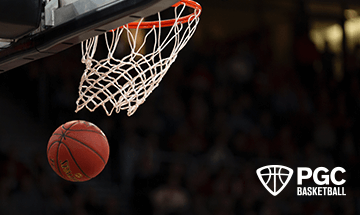 About PGC
PGC Basketball provides intense, no-nonsense basketball training for players and coaches. Our basketball camps are designed to teach players of all positions to play smart basketball, be coaches on the court, and be leaders in practices, games and in everyday life.
We combine our unique PGC culture with a variety of teaching methods and learning environments to maximize the learning potential of those that attend our sessions. In addition to spending 6-7 hours on the court each day, lessons will be reinforced through classroom sessions and video analysis.
Our goal at PGC is to empower you with the tools to fulfill your basketball dreams, while also assisting you in experiencing the joy of the journey.
To learn more about PGC Basketball, including additional basketball training tips and videos, visit our YouTube Channel or find us on Facebook, Instagram, and Twitter.