How to Get into Basketball Shape
I still remember grabbing the extra trash can. At that point, we had committed to our plan and we were not turning back.
Even as complaints from the players grew louder, we knew it was going to be better than what they always did.
As Division 1 strength and conditioning coaches, we didn't intend to create what has become known as the 'go-to' conditioning drill to get basketball players into game-ready shape.
All we wanted was for the players to stop running the mile run as part of their pre-season conditioning.
"I know you're the experts, but we've had our players run the mile for years as part of their conditioning and fitness test," asked the coach.
As politely as we could, we explained that having players run the mile not only didn't get them in basketball-ready shape, but was also a waste of time and energy.
Read: How Players Also Waste Their Time Trying to Get Seen
The coach wasted no time responding…
"I don't care — I want my players to run a mile. They need to be ready for the upcoming pre-season games."
At the end of the day, it's his team and he gets what he wants. As support staff, we need to compliment his wants with our expertise.
"Okay coach. We'll make sure when it's all said and done the players will have run a mile."
Now the fun part…
How were we going to have the players run a mile and make it more like what actually happens in basketball?
Well, we solved that question and what we created is now know as The Basketball Mile.
A mile is 5,280 feet.
A basketball court is 94 feet long.
5,280 feet divided by 94 feet is approximately 56.
So 56 full court sprints equals one mile in distance.
But…
Basketball is a game of starts, stops, and changes of direction, not running in a straight line at a constant speed. So instead of 56 full-court sprints, we wanted the players to do half-court down and back sprints. That way they would have to change direction with each attempt.
This meant our basketball mile had to be comprised of 56 half-court down and back sprints, which totals one mile.
Basketball is commonly played with four quarters and short rest breaks after the first and third quarters, and an extended half-time break at the end of the second quarter. With that in mind, we took the 56 half-court down and back sprints and broke them up into four quarters of 14 sprints.
OUR GIFT TO YOU!
We're excited to give you three free videos! Inside these videos, you'll discover how to become an Unstoppable Playmaker.
For example, if it took the fastest player 5 seconds to sprint to half and back, he got 15 seconds of rest before the next sprint. And, if it took the slowest player 10 seconds to sprint there and back, he only got 10 seconds of rest before the next sprint.
To ensure the players were sprinting with game-like effort, we had a continuous running clock that sent the players off for their next sprint every 20 seconds.
To help their ball-handling, we had them dribble a ball for each sprint.
Including the breaks, the total time is 26 minutes and 20 seconds.
Now our mile looked more like an actual basketball game.
Treat the quarter breaks like you do in a game — players can get water, wipe the sweat, and get back to the line before the next sprint.
As the players fatigue, it takes longer to complete each sprint so their rest time gets shorter and shorter. This is an important aspect of the activity, as players get used to pushing through fatigue.
Not only do players give great effort every time to ensure as much rest as possible, but they are forced to accelerate, decelerate, and change direction with each sprint. And, just like in real games, they have to restart their engines continuously throughout their time.
Read: It's Not What You Do. It's How You Do What You Do.
The first time we did The Basketball Mile, some of the in-shape players thought it was 'too easy' during the first quarter of sprints. Even with their 2-minute rest break between the 1st and 2nd quarter, the players were worn out by half time.
By the end of the four quarters, they were exhausted.
The Basketball Mile became our Friday conditioning drill that pre-season. And as the players got into better shape, we reduced the 20 seconds between send-offs to 15 seconds.
When the first pre-season game arrived the head coach confirmed, "I've never had a team so fit and ready for our first pre-season game."
He never had his team run straight miles again after that. 😉
Please understand I'm not saying The Basketball Mile should be your one and only conditioning drill.
What I recommend is to stop running a traditional mile to get in basketball shape. Your conditioning needs to replicate the movements and and efforts in the game of basketball as much as possible.
And when you truly get in game shape, you'll outrun, outwork, and outlast your opponents.

---
---
Related Articles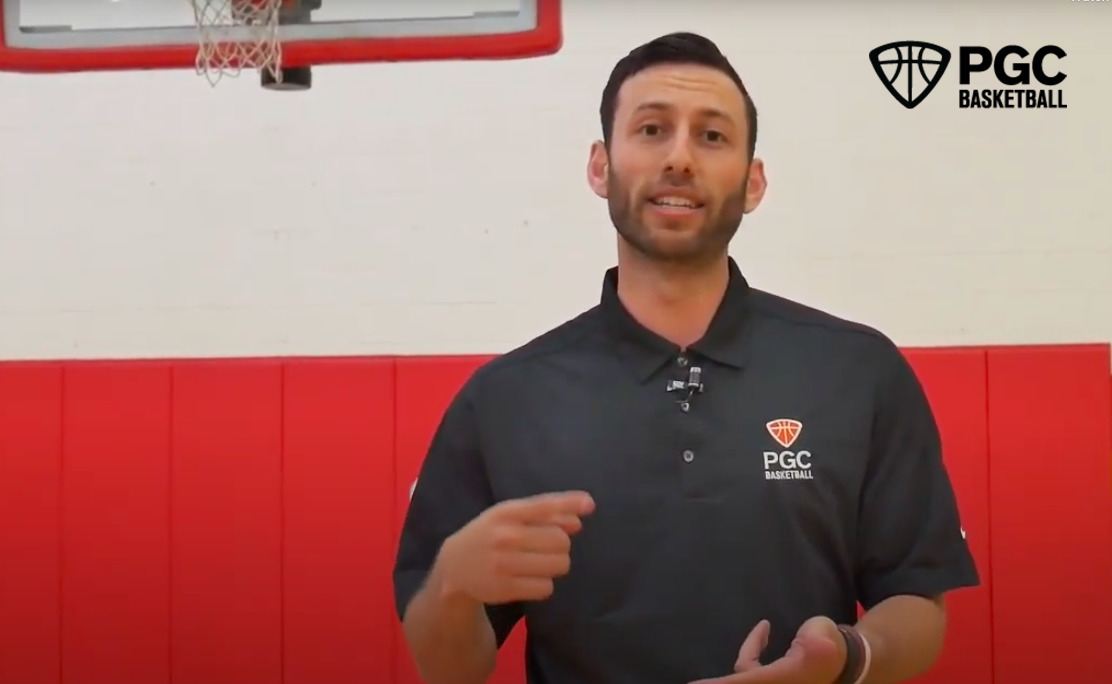 Think the Game Thursday: 6-Minute Ball Handling Workout
Home for the holidays with no hoop? Not a problem! This week we are pulling from the PGC+ archives and having PGC Director Rudy Bentley lead a quick 6-minute workout. Repeat this exercise 2-3x per day to improve your ball handling, and lower body strength and stability.
About PGC
PGC Basketball provides intense, no-nonsense basketball training for players and coaches. Our basketball camps are designed to teach players of all positions to play smart basketball, be coaches on the court, and be leaders in practices, games and in everyday life.
We combine our unique PGC culture with a variety of teaching methods and learning environments to maximize the learning potential of those that attend our sessions. In addition to spending 6-7 hours on the court each day, lessons will be reinforced through classroom sessions and video analysis.
Our goal at PGC is to empower you with the tools to fulfill your basketball dreams, while also assisting you in experiencing the joy of the journey.
To learn more about PGC Basketball, including additional basketball training tips and videos, visit our YouTube Channel or find us on Facebook, Instagram, and Twitter.