PGC GRADS FROM MARQUETTE AND UC-SANTA BARBARA EARN ALL-CONFERENCE HONORS
ROBINSON AND McMORRIS EARN ALL-BIG EAST HONORS
Marquette senior guards Angel Robinson and Tatiyiana McMorris earned All-BIG EAST Conference honors. Robinson was named to the All-BIG EAST First Team, while McMorris picked up second team honors.
[ Robinson and McMorris attended PGC Basketball's Think The Game session in 2008. ]
Robinson has led the Golden Eagles with 13.3 points per game, including 13.4 points in BIG EAST play in 2010-11. Robinson has registered 23 games of double-figure scoring, including 13 in BIG EAST play. She led the BIG EAST in minutes played in league games with 37.9, and ranked in the top 15 of the conference in scoring (13.4, 11th), assists (4.8, fifth), steals (1.9, 10th), assists/turnover ratio (1.5, sixth), free throw percentage (.766, 13th) and defensive rebounds (4.2, 12th).
Robinson was an all-freshman team selection in 2008 and a second team honoree in 2009 and 2010.
McMorris showcased herself as one of MU's most improved players this season, and contributed a team-best 15.3 points, 3.4 rebounds and 3.5 assists per game in BIG EAST play. She scored in double figures in 20 games, and posted back-to-back 20-plus point performances in wins over Louisville and Pittsburgh.
She emerged as MU's 3-point specialist with 66 this season, including 43 in BIG EAST play. Her 38.1 3-point field goal percentage ranks eighth in the league, while her 2.9 3-pointers per game stands second.
It is McMorris' first all-conference nod of her career.
EMILIE JOHNSON EARNS FIRST TEAM ALL-BIG WEST
When the 2010-11 Big West All-Conference Teams were announced, UC Santa Barbara's Emilie Johnson rounded out the list of first team All-Big West selections.
[ Emilie Johnson attended PGC Basketball's Think The Game session in 2008. ]
---
---
Related Articles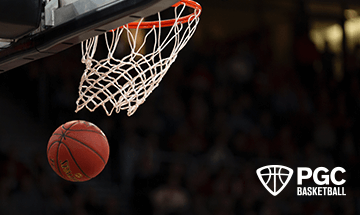 PGC Basketball Partners with GameChanger
PGC Basketball announced a partnership with GameChanger, the #1 rated youth sports app for live game streaming, scorekeeping, and team management. GameChanger, which is owned by DICK'S Sporting Goods, will be officially showcased for coaches in the PGC community as the premier live game streaming, scorekeeping, and team management app.
About PGC
PGC Basketball provides intense, no-nonsense basketball training for players and coaches. Our basketball camps are designed to teach players of all positions to play smart basketball, be coaches on the court, and be leaders in practices, games and in everyday life.
We combine our unique PGC culture with a variety of teaching methods and learning environments to maximize the learning potential of those that attend our sessions. In addition to spending 6-7 hours on the court each day, lessons will be reinforced through classroom sessions and video analysis.
Our goal at PGC is to empower you with the tools to fulfill your basketball dreams, while also assisting you in experiencing the joy of the journey.
To learn more about PGC Basketball, including additional basketball training tips and videos, visit our YouTube Channel or find us on Facebook, Instagram, and Twitter.