PRESS RELEASE
PGC Basketball Opens New Training Center in Phoenix, AZ
PHOENIX, AZ — PGC Basketball, a leading provider of basketball education, is excited to announce the opening of PGC Phoenix, a training and development destination for dedicated players and coaches at all levels.
"For more than a decade, we've had a vision of a world-class PGC training facility, our very own 'home court'. We're excited to have a dedicated place to invite members of our extensive PGC family, and the greater basketball community, to connect with us. It's an exciting new chapter for PGC," said PGC President Mano Watsa.
"We're also excited to partner with The Phhacility in Phoenix, which provides a state-of-the-art basketball facility for our new local training programs, a dedicated venue for special events hosted by PGC and Key5 Coaching, and a lab for testing and development of our online and camp curriculum," added Watsa.
Widely respected for its Point Guard College camps where players develop their basketball IQ and learn to Think The Game™, PGC has drawn from its entire curriculum to develop a one-of-a-kind training program for Phoenix players. All programs offered at PGC Phoenix include feedback or training from PGC certified trainers.
PGC Phoenix offers six shooting lanes equipped with Shoot-A-Way 10k Shooting Guns, allowing players to get up to 500 shots in half an hour. Group training memberships provide the opportunity to train game-ready skills, habits, and decision-making with players of the same age and level. One-on-one training allows players to work individually with a PGC trainer to create a comprehensive training plan that includes the development of their entire game and mindset.
Visit us at PGC Phoenix – Get Details>
Fall Shooting College at PGC Phoenix
About PGC
PGC Basketball is the leading basketball education program in the world for teaching players and coaches how to Think the Game.
For more than 28 years, PGC has provided an intense, no-nonsense learning experience for over 100,000 players and 15,000 observing coaches at summer and fall camps.
Last year, PGC introduced Key5 Coaching, a membership program dedicated to providing world-class education, mentoring, and community for coaches.
In 2020, PGC introduced PGC+, an online course series, and PGC Phoenix, a new basketball training destination housed in Phoenix, AZ.
About The Phhacility
The Phhacility is a 31,000 square foot, state-of-the-art, private basketball facility in Phoenix, AZ. It is a 'one stop shop' for athletes, youth to professionals, looking for an elite atmosphere to take their games to the next level.
Learn more at Phhacility.com.
About Shoot-A-Way
Shoot-A-Way manufactures best-in-class shooting machines for basketball programs of all levels, high school to professional. Shoot-A-Way shooting machines act as an automatic rebounder, instantly rebounding made or missed shots and giving a direct return pass for another shot. Offering the ability to fire up to 1800 shots per hour, these shooting machines allow players to get in intense and efficient workouts in a short window of time.
Learn more at Shootaway.com.
---
---
Related Articles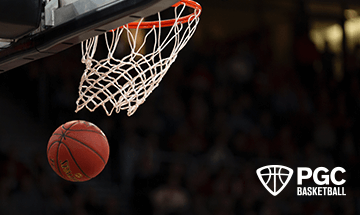 About PGC
PGC Basketball provides intense, no-nonsense basketball training for players and coaches. Our basketball camps are designed to teach players of all positions to play smart basketball, be coaches on the court, and be leaders in practices, games and in everyday life.
We combine our unique PGC culture with a variety of teaching methods and learning environments to maximize the learning potential of those that attend our sessions. In addition to spending 6-7 hours on the court each day, lessons will be reinforced through classroom sessions and video analysis.
Our goal at PGC is to empower you with the tools to fulfill your basketball dreams, while also assisting you in experiencing the joy of the journey.
To learn more about PGC Basketball, including additional basketball training tips and videos, visit our YouTube Channel or find us on Facebook, Instagram, and Twitter.