Despite her determined push to develop into a team leader who imposes her will via vocal chords and work ethic, Rice junior point guard D'Frantz Smart remains as affably approachable as ever, her rosy disposition seemingly unaffected by her overt desire for maturation.
Owls junior forward Jackie Stanley hasn't allowed a second microfracture surgery on her right knee to sap her exuberance. While Rice coach Greg Williams speaks of Stanley in a cautions, almost resigned tone, Stanley discusses her deteriorating knee with a disarming smile. While two knee procedures have all but guaranteed that Stanley will never be the player Williams welcomed from Kansas State in 2008, Stanley is taking her measured rehab steps in stride. If she is worried about her playing future, her mood belies that concern.
It was no accident that Williams opted to have Smart and Stanley represent his program on Monday when the Owls hosted basketball media day at Tudor Fieldhouse. As dynamic players and personalities, Smart and Stanley are as capable of suppressing pessimism with their effortless charm as they are skilled at executing the pick-and-roll with precision. While Williams can barely mask his concern over injuries and a league – Conference USA – improving in lockstep with his program, Smart and Stanley make it easier to believe everything just might be OK.
"We're going to work hard for 2½ hours, and that's all we're going to think about," Smart said of the Owls' daily practice schedule. "All we're going to focus on is basketball for those next 2½ hours, and about playing hard basketball. That's what I came (into preseason camp) thinking about, and I think it's definitely fed off to everybody else.
"For about the first week of practice we scrimmaged three times and the score was 11-12 every scrimmage, so it wasn't like one team was beating up on the other team. So that really shows that our team has, one, gotten better and, two, that we're coming in trying to compete."
After experiencing a leadership crisis early in her sophomore season, Smart returned from a temporary benching and took command of the team. She should be better equipped to lead as a junior for she enters this season healthy (Smart was slowed by a foot injury heading into her sophomore campaign), and is emboldened by her four-day stint at Point Guard College at Emmanuel College in Boston.
Instead of only taking charge during games, Smart has become a vocal presence during practice. Not only is she establishing an authoritative position within the team dynamic, Smart is attempting to make herself accountable behind the scenes, not just when the lights come on.
"D'Frantz has been voted one of our three tri-captains along with (junior forward) Megan Elliott and sophomore (guard) Jessica Goswitz," Williams said. "One of the things she brought out of (Point Guard College) is she needs to be a more vocal leader. She's shown that she is ready to do that. She's always been our floor leader, but it's hard for a freshman or sophomore to be a vocal leader. She's more comfortable with that role. Plus being healthy this time of year she's played extremely well."
However things shake out, this much is obvious: Smart will lead with infectious enthusiasm, and Stanley will work through her issues with a positive attitude. Those truths should give Williams reason to smile.
—
Smart graduated from Point Guard College's session for college basketball players.
---
---
Related Articles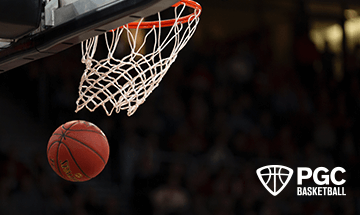 About PGC
PGC Basketball provides intense, no-nonsense basketball training for players and coaches. Our basketball camps are designed to teach players of all positions to play smart basketball, be coaches on the court, and be leaders in practices, games and in everyday life.
We combine our unique PGC culture with a variety of teaching methods and learning environments to maximize the learning potential of those that attend our sessions. In addition to spending 6-7 hours on the court each day, lessons will be reinforced through classroom sessions and video analysis.
Our goal at PGC is to empower you with the tools to fulfill your basketball dreams, while also assisting you in experiencing the joy of the journey.
To learn more about PGC Basketball, including additional basketball training tips and videos, visit our YouTube Channel or find us on Facebook, Instagram, and Twitter.