Don't Let One Moment Define Your Game
It's the last of the ninth, one run behind, one man on, two outs, the wind up, the pitch, a long high drive, deep left center field, going way back, way back…
Or would you prefer the ball to have been snapped, no time left on the clock, last play of the game, five point deficit, but a long pass into the end zone, both the wide receiver and the strong safety about to leap…
Or you hear the buzzer go off, the referee signals that the shot has been released in time, one point deficit, if it goes in, you win (if it misses you lose)…
You understand the situation. The ball is in the air. Heads you win, tails you lose. Does the ball sail over the fence, get snatched in the end zone, swish through the hoop… or is it caught on the warning track, deflected out of bounds, or air balled?
The outcome is in the hands of the gods. May I suggest a fantasy? Let's have the post-game talks right now. Stop the ball in mid-flight, stop the players, stop the spin of the earth, and let's talk about things. With the game's outcome still unknown, no one can say "we made the big plays when we needed them." No one can say "we did what it took to win." No one needs to throw things or talk about what might have been. If only this, if only that.
Coaches, reporters, parents, athletes…go ahead. Talk about it now. What was good? What was bad? What needs to be improved for next game? What can be learned? Got it? Everyone finished? Okay. Time-in. Spin on, Earth. Move, folks. Go, balls. Kerplunk!
Are you aware of how dramatically the post-game commentary changes depending on whether one last-second ball is an inch one way or another? Over the fence, there are celebrations, congratulations, champagne in the showers. Remember that play. All those great plays. What an awesome game. Of course, an inch short (or simply in the other locker room) everything is completely different. Tears, disappointment, failure, self-doubt, second guessing, dissension, blaming. Those refs…Johnny…the coach…darn, if only this, if only that. That one play. And that other. And that other. Why me? Why us? Not again. It ain't fair. "We just didn't get it done." "We didn't have what it took." "We blew it at crunch time." "We'd beat them nine out of ten times."
Does one inch in the last second, one way or the other, really dictate that the post-game responses are so dramatically different? Welcome to the world. Winning and losing. Champ or chump. You can't do much about the rest of the world. It isn't likely to change very much. But personally, on your own, you ought to be influenced by this insight if you haven't already given it a great deal of thought. After most wins, you really aren't entitled to all the congratulations you get nor to the focus on all the good things that happened. And after most losses, you really don't deserve all the criticism or the anguish of realizing that so many plays—if only just one had gone differently—cost you the victory.
Before we re-spun the globe, no one was crying, no one squirting champagne. There were, as in most games, some good plays and bad plays, some good calls and bad calls. Can you remember the last time you watched a victory celebration and the coaches and players essentially credited the referees with the victory? "It was the refs. They did it. They won it for us." Yet nearly everyone in the world has heard losers, after almost every loss, cite the referees as one of the primary culprits. "Gawd, those refs!"
It sounds stupid. And it is. Post-game commentary usually is. Most games contain several good plays, several bad plays, and a lot of mediocre plays. Athletes need to see games as they are, regardless of what happens in the last second or two. Heroes are rarely as great as post-game commentators wish to make them; and scapegoats are rarely as guilty as the talk show lynch mobs would have you believe. Seeing games as they are ought to make it a lot easier for you to be gracious when you win, and calmer and philosophic when you lose. Not bad things to be.
---
---
Related Articles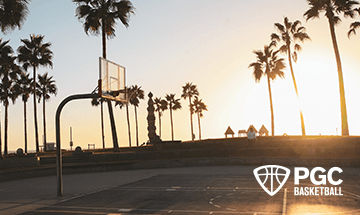 About PGC
PGC Basketball provides intense, no-nonsense basketball training for players and coaches. Our basketball camps are designed to teach players of all positions to play smart basketball, be coaches on the court, and be leaders in practices, games and in everyday life.
We combine our unique PGC culture with a variety of teaching methods and learning environments to maximize the learning potential of those that attend our sessions. In addition to spending 6-7 hours on the court each day, lessons will be reinforced through classroom sessions and video analysis.
Our goal at PGC is to empower you with the tools to fulfill your basketball dreams, while also assisting you in experiencing the joy of the journey.
To learn more about PGC Basketball, including additional basketball training tips and videos, visit our YouTube Channel or find us on Facebook, Instagram, and Twitter.