The one thing I worry about as a parent…
I'm typically not one to worry about things.
Health, finances, big decisions, missing a plane flight…nothing keeps me up at night.
Except this one thing…
I worry about each of my kids not living up to their potential. 😟
It's tough to even admit, as I pride myself on not worrying about things. I didn't have this worry when my kids were little, but it somehow crept in as my kids became teenagers.
I don't want any of my kids to fall short of everything they're capable of becoming in life. They've been given a lot…a great country to live in, good health, a loving family, a good education, and so much more.
Unfortunately, most teenagers don't understand that life is short and they have a limited amount of time to bring their dreams to life. They don't fully grasp what's needed to stand out and become their very best.
And, few young people develop the initiative, self-discipline, and work ethic needed to truly excel.
To do everything possible to help my kids, I've sent them to the one place where I discovered how to maximize my potential, pursue excellence, and become a leader — a PGC camp.
Through multiple camps each summer (20 in total and counting…), I've witnessed how each director brings out the untapped potential in my kids.
It's enthralling to see firsthand.
I've realized there is no greater joy as a parent than to watch our kids come alive in new ways, deepen their passions, and unlock their leadership potential.
Leagh Turner, President of the global giant Ceridian corporation, said this after attending a PGC camp as an observer with her two boys:
"I have attended hundreds of hours of leadership training over the years. In my view, what my boys experienced this week was among the best leadership/life training I have personally been exposed to. The fact that they left loving basketball more than they did when they arrived, and with improved skills, is simply the icing on the cake."
After further encouraging comments, Leagh concluded with this:
"PGC is like navy seal training for young people to equip them to become successful, resilient adults."
As you can see, it's about way more than just basketball. It's about setting up our kids so they live to their full potential.
If you want to position your kids for maximum success — on and off the court — then join thousands of like-minded parents and make the investment to get them to a PGC camp this summer.
We truly believe you'll be grateful you did.
See you soon,
Mano
---
---
Related Articles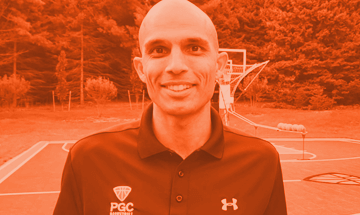 About PGC
PGC Basketball provides intense, no-nonsense basketball training for players and coaches. Our basketball camps are designed to teach players of all positions to play smart basketball, be coaches on the court, and be leaders in practices, games and in everyday life.
We combine our unique PGC culture with a variety of teaching methods and learning environments to maximize the learning potential of those that attend our sessions. In addition to spending 6-7 hours on the court each day, lessons will be reinforced through classroom sessions and video analysis.
Our goal at PGC is to empower you with the tools to fulfill your basketball dreams, while also assisting you in experiencing the joy of the journey.
To learn more about PGC Basketball, including additional basketball training tips and videos, visit our YouTube Channel or find us on Facebook, Instagram, and Twitter.