My only regret in my basketball career…
I was fortunate to have had a lengthy and pretty successful basketball career.
But, there is one thing I would have done differently if I could do it all over again…
It's a bit embarrassing to write about in light of what I do now.
And, it may have been the difference between being one of the last cuts for our Canadian national team and actually making the team (and playing with Steve Nash in the Olympics…). 😔
I just didn't realize it at the time.
Here's what happened…
After an unforgettable week with PGC founder Dick DeVenzio, he invited me to come back for another week at Point Guard College. As amazing as my first week had been, for some reason I didn't go.
To be honest, I'm not even sure why.
Maybe I thought I didn't have that much more to learn. Maybe I wasn't sure if it would be as impactful a second time around. Maybe I thought it wasn't worth the time and effort. I don't know.
The one thing I do know is that it was a mistake—a really big mistake.
I only realized this when I returned to PGC as an observing coach nearly 10 years later. I discovered SO many concepts and teachings I hadn't implemented in my playing career—things that could have made me an even better player and leader. Things that could have helped me wear 'Canada' across my chest…and play alongside a two-time NBA MVP. 😞
As I reflect back, I think I missed so much at PGC my first time around because PGC is like drinking out of a firehose. You just can't take it all in.
Dick hadn't told me that though, so I didn't know. I had no idea there was SO much more to learn.
That's why I'm sharing my personal story with you.
I don't want you to have ANY regrets in your career…and I don't want you to miss out on reaching your full potential.
Coming back to PGC for a second, third or fourth camp will help to ensure you become the player you're meant to be—especially as each of our courses (Playmaker College, Scoring College, Point Guard College, and PGC Grad School) will equip you with different skills and habits.
Here's what two PGC grads said after returning to PGC:
"Going to a PGC camp a second time really opened my eyes to new habits and concepts. I can't explain how much it helps to experience this stuff a second time."
— Jaycee Hillsman | Urbana, IL
"This was my second time at PGC, and I learned just as much as the first. Each time you attend a camp, the skills are 're-loaded' back into your game. Without a doubt, this week has been the most intense and beneficial five days of basketball I have ever had."
— Michael Reimer | Newcastle, WY
So, do yourself a big favor and don't make the same mistake I made. Get to a PGC camp this summer and have another drink from the firehose.
You'll be glad you did.
Mano
---
---
Related Articles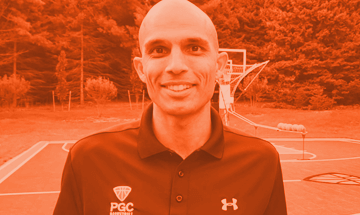 About PGC
PGC Basketball provides intense, no-nonsense basketball training for players and coaches. Our basketball camps are designed to teach players of all positions to play smart basketball, be coaches on the court, and be leaders in practices, games and in everyday life.
We combine our unique PGC culture with a variety of teaching methods and learning environments to maximize the learning potential of those that attend our sessions. In addition to spending 6-7 hours on the court each day, lessons will be reinforced through classroom sessions and video analysis.
Our goal at PGC is to empower you with the tools to fulfill your basketball dreams, while also assisting you in experiencing the joy of the journey.
To learn more about PGC Basketball, including additional basketball training tips and videos, visit our YouTube Channel or find us on Facebook, Instagram, and Twitter.