Three PGC Alum Named as Candidates for Lowes Senior Class Award
OVERLAND PARK, KS (November 3, 2010) – 30 NCAA® women's basketball student-athletes, who excel both on and off the court, were selected as candidates today for the Lowe's Senior CLASS Award in basketball. To be eligible for the award, a student-athlete must be classified as an NCAA Division I senior and have notable achievements in four areas of excellence – community, classroom, character and competition. The complete list of candidates follows this release.
An acronym for Celebrating Loyalty and Achievement for Staying in School®, the Lowe's Senior CLASS Award focuses on the total student-athlete and encourages students to use their platform in athletics to make a positive impact as leaders in their communities.
The 2011 women's candidate class includes five players who were CoSIDA Academic All-Americans last year, 22 student-athletes with grade point averages of 3.0 or better, four players who participated in the 2010 Women's Final Four and 15 players on the preseason watch list for the John R. Wooden Award. Lowe's, an official Corporate Partner of the NCAA, will announce the women's basketball Senior CLASS Award winner at the NCAA Women's Final Four® in Indianapolis.
The candidate class will be narrowed to 10 women's finalists midway through the regular season, and those names will be placed on the official ballot. Ballots will be distributed through a nationwide voting system to media, coaches and fans, who will select one finalist who best exemplifies excellence in the four Cs of community, classroom, character and competition.
"The young women who have been selected as candidates for the basketball award are shining examples of student-athletes who exercise time management every day, juggling class work and community service with practice and games," said Tom Lamb, Lowe's senior vice president of marketing. "The ability to balance things that are important to them will be a skill they will use throughout their lives."
2010-11 Women's Basketball Lowe's Senior CLASS Award Canidates
Kachine Alexander, Guard, Iowa
Erin Anthony, Forward, Army
Angie Bjorklund, Guard/Forward, Tennessee
Jessica Breland, Forward, North Carolina
Victoria Dunlap, Forward, Kentucky
Dawn Evans, Guard, James Madison
Amber Harris, Forward, Xavier
Ify Ibekwe, Forward, Arizona
Amy Jaeschke, Center, Northwestern
Alyssa Karel, Guard, Wisconsin
Michelle Kirk, Forward, American
Jantel Lavender, Center, Ohio State
Maya Moore, Forward, Connecticut
Kayla Pedersen, Forward, Stanford
Ta'Shia Phillips, Center, Xavier
Julie Piper, Forward, Eastern Washington
Jeanette Pohlen, Guard, Stanford
Lauren Prochaska, Forward, Bowling Green
Erica Prosser, Guard, Lehigh
Sam Quigley, Guard, DePaul
Liz Repella, Guard, West Virginia
Jence Rhoads, Guard, Vanderbilt
Danielle Robinson, Guard, Oklahoma
Jaleesa Ross, Guard, Fresno State
Sam Schuett, Forward, Creighton
Brittney Smith, Forward, Dartmouth
Helena Sverrisdottir, Guard/Forward, TCU
Kayla Tetschlag, Guard/Forward, Green Bay
Jasmine Thomas, Guard, Duke
Courtney Vandersloot, Guard, Gonzaga
---
---
Related Articles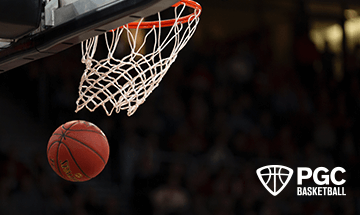 About PGC
PGC Basketball provides intense, no-nonsense basketball training for players and coaches. Our basketball camps are designed to teach players of all positions to play smart basketball, be coaches on the court, and be leaders in practices, games and in everyday life.
We combine our unique PGC culture with a variety of teaching methods and learning environments to maximize the learning potential of those that attend our sessions. In addition to spending 6-7 hours on the court each day, lessons will be reinforced through classroom sessions and video analysis.
Our goal at PGC is to empower you with the tools to fulfill your basketball dreams, while also assisting you in experiencing the joy of the journey.
To learn more about PGC Basketball, including additional basketball training tips and videos, visit our YouTube Channel or find us on Facebook, Instagram, and Twitter.