High-level communication is a character trait that coaches crave, and often, players struggle to implement. It's a skill that seems daunting to teach, yet it can fuel a team's growth when executed effectively. It's difficult though, I understand. We have all been at that point in practice where we are telling our teammates or players, "TALK MORE!!!! C'MON. WE HAVE TO TALK MORE!" And as you know, this rarely ignites change.
Each year, I watch numerous high school and college basketball games and hear a similar noise from players, often mistaken for communication. "WOO! WOO! WOO!" (when a player is open) We're not howler monkeys in heat. We are humans.
So when it comes to getting our teammates' attention or getting any player to communicate, how do we move from a place of frustration and confusion to one of confidence and certainty?
Simple. Learn to use people's names.
Leadership guru Dale Carnegie said, "a person's name is to her or him the sweetest and most important sound in any language."
But why?
It's a human's greatest connection to their identity and individuality. It makes people feel a sense of belonging and connection. More importantly for basketball, a name is a quick way to get someone's attention. But we rarely use names. And when we do, it's often at the end of the phrase.
Imagine this for a moment. A player named Reagan is on my team and Reagan is guarding a good offensive rebounder. As we run back in transition, I give her a piece of instruction with no name attached. "Remember to box her out." I can't guarantee Reagan heard that information through all the noise in the gym.
How about if I am going back in transition, and I say, "Remember to box her out, Reagan." She definitely heard her name, but she probably missed the information that preceded it.
Now imagine you are going back in transition, and I say, "Reagan, remember to box her out." I can be more confident and certain that Reagan received that piece of information. Why? Because I communicated the name first, information second.
Most of us are in the habit of saying the name after the information. On the court that doesn't work. The game is moving fast, the crowd is cheering loudly, and players minds are moving at warp speed thinking about the next play.
Train yourself to use names first, information second. If you do this, your teammates will play better for you, work better with you, and be more receptive to hearing the information you are giving them in the heat of the battle. Who knows, that just might be the difference between losing a big game and winning a championship. And I think we can all agree on which outcome we'd prefer.
---
---
Related Articles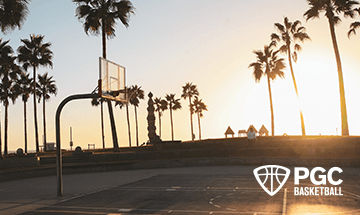 About PGC
PGC Basketball provides intense, no-nonsense basketball training for players and coaches. Our basketball camps are designed to teach players of all positions to play smart basketball, be coaches on the court, and be leaders in practices, games and in everyday life.
We combine our unique PGC culture with a variety of teaching methods and learning environments to maximize the learning potential of those that attend our sessions. In addition to spending 6-7 hours on the court each day, lessons will be reinforced through classroom sessions and video analysis.
Our goal at PGC is to empower you with the tools to fulfill your basketball dreams, while also assisting you in experiencing the joy of the journey.
To learn more about PGC Basketball, including additional basketball training tips and videos, visit our YouTube Channel or find us on Facebook, Instagram, and Twitter.