Quit Being So Hard to Coach
Players, listen up!
I'm shooting straight from the hip today because I'm very passionate about this topic. I'm tired of seeing players blame everyone around them for their average success. If you're difficult to coach, don't expect more playing time.
Before we dive in, let's get this out of the way:
COACHES HAVE FAVORITES!!
Of course, they have favorites—their favorites are the players they can trust, on and off the court.
Here are four reasons you may not be getting the playing time you think you deserve:
1. TOO SELFISH
When something bad happens to you in the game, don't:
Slouch at the end of the bench
Intentionally ignore your teammates' hand for a high five
Throw a water bottle
Curse out loud or under your breath
Yell at teammates
Begin taking bad shots
Become disengaged from the game
Bring unnecessary attention to yourself

If you're playing poorly, find another way to contribute to your team. Get outside yourself. Cheer harder for your teammates. Celebrate everyone else's success. Give high-fives. Be a light for your team that pierces through the darkness of your temporary poor play. I promise when you do this, your play will change.Put others first and you'll be easier to coach.
2.TOO SENSITIVE
I'll admit, I'm a bit sensitive myself. I'm a people-pleaser who wants to do well. But, sensitivity becomes a problem when you turn feedback from a coach into an attack on your character.
You must realize a good coach will and should hold you to a high standard. I see too many players quit because a coach challenged them to be better — and they take it personally.

Never quit because it's "too hard." Receive coaching, learn from it, and move forward. Coaches don't want to walk on eggshells around you — they want to coach you. If you're going to be the coach's favorite, embrace their coaching with a nod and a "Yes, Coach." Thank your coach for their time, effort, and commitment, and don't let your perception of their coaching destroy your confidence. Embrace coaching, and you'll be easier to coach.
3. LACK OF CONSISTENT EFFORT
This one's simple, but not easy. If you want to play more, stop making excuses. If you want to be the best player you can be, work harder. If you want to gain more confidence, work harder. If you want college coaches to recruit you, work harder. There's no substitute for hard work.
I've worked with thousands of players over the years, and the majority of them work hard, occasionally. The special players work hard consistently. A coach's favorite player is someone who gives effort all the time, not just some of the time.
How many times have you seen less talented players get playing time because of their hustle?
Coaches play players they trust.
Whether you're in the classroom, film room, or practice — work hard, show up prepared, and dominate every single day! If you do this, you'll be easier to coach.
4. LACK OF GRATITUDE
If you're grateful for your opportunity to be playing this game, then let that love spill over into how you approach the game. Be early to practice. Sit in the front for film sessions. Dive after loose balls. Go crazy for your team when you're on the sideline. Realize how blessed you are to have this opportunity to play. Get grateful and you'll become easier to coach.
If you give all you have to this game, the game will give back to you. Plus, you'll be a lot easier to coach.
– Matt McLeod, PGC Director
---
---
Related Articles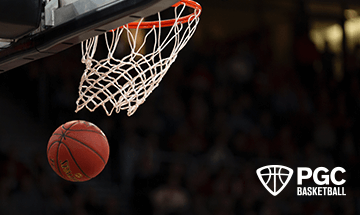 Act Like You've Been There Before
The moral of the story is that nobody is scared if you do something once – they're scared if they think you can do it again. So why should that matter to you?
About PGC
PGC Basketball provides intense, no-nonsense basketball training for players and coaches. Our basketball camps are designed to teach players of all positions to play smart basketball, be coaches on the court, and be leaders in practices, games and in everyday life.
We combine our unique PGC culture with a variety of teaching methods and learning environments to maximize the learning potential of those that attend our sessions. In addition to spending 6-7 hours on the court each day, lessons will be reinforced through classroom sessions and video analysis.
Our goal at PGC is to empower you with the tools to fulfill your basketball dreams, while also assisting you in experiencing the joy of the journey.
To learn more about PGC Basketball, including additional basketball training tips and videos, visit our YouTube Channel or find us on Facebook, Instagram, and Twitter.