Life Lessons with Coach Don Meyer
It's not every day that you have the opportunity to meet a true basketball coaching legend. I had that very privilege recently when I shared a meal and time with the tremendous basketball coach and human being, Don Meyer.
Coach Meyer is the all-time winningest coach in NCAA men's basketball history and recently retired as head coach at Northern State University. More impressive than his coaching accomplishments has been the storied journey he's gone through in battling cancer and a horrific car accident a few years ago. Sportswriter, Buster Olney, recently wrote a book titled, "How Lucky You Can Be: The Story of Coach Don Meyer," which further illustrates how much he has gone through.
During our time together, his humor, humility, and honesty made the evening such an enjoyable time to share together. It comes as no surprise that he's been so resilient through all of the challenges he's faced.
We talked about everything from religion to marriage and of course some basketball as well. We spoke of mutual friends and contacts, like Coach Bob Starkey, Associate Head Coach of the Louisiana State University women's basketball team. Coach Starkey is a great coach and has always been so influential in spreading positive messages about the game. (You can check out his blog, Hoop Thoughts, as it contains really valuable information for basketball coaches.)
THE JOYS AND STRESS OF BEING A BASKETBALL COACH
Coach Meyer shared what was most difficult about not coaching on a daily basis, but also stated how he felt like he was on a '24-7′ vacation as he now is resorted to speaking at clinics, camps, and to business organizations. Coach said the stress of coaching was something he never realized until he had retired last spring.
We spoke of organization and how to create productivity each and every day. He shared how he organized his daily, weekly, and monthly schedule. And, despite all the technology that's available, he still keeps a piece of paper on him at all times to ensure he's completed his daily tasks.
---
"Every lesson on court is a lesson in life."
Don Meyer
---
:
Most impactful was our conversation about developing positive relationships. He encouraged me to use an 'eight to 12 touches per day' rule — both personally and professionally. For instance, as a basketball coach, Coach Meyer's goal was to give at least eight personal touches to his basketball players each day.
I asked him if he spoke to his players about relationships and he poignantly said, "Every lesson on court is a lesson in life". I know he saw my face light up, and we discussed what this meant further to each of us.
If all we do is teach players how to dribble, pass, and shoot, we are missing out on a tremendous opportunity. The best coaches, like Coach Meyer, constantly find parallels between practice situations or games and tie them to a creative or powerful teaching point that has the ability to not only transform a player's game, but more importantly, their life.
So coaches, always remember the words of Coach Meyer: "Every lesson on court is a lesson in life". I know I will.
---
---
Related Articles
The Beauty of the Game | The Leadership Podcast
Mano joins Jan Rutherford & Jim Vaselopulos, on The Leadership Podcast to talk about his sports and business experiences with stories and advice on thinking like a coach, communicating, and making a difference in people's lives.
The Way I End Each Year
For the past few years, I have taken time over the holidays to do the same two exercises: On New Year's Eve I take time to reflect back on the year; then on New Year's Day I take time to create my plan for the coming year. These few hours have become really special to me. In fact, I look forward to them with great anticipation. Looking back on the year gives me the chance to pause to celebrate and appreciate all that transpired. My reflection process is the same each year.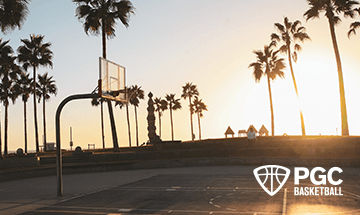 About PGC
PGC Basketball provides intense, no-nonsense basketball training for players and coaches. Our basketball camps are designed to teach players of all positions to play smart basketball, be coaches on the court, and be leaders in practices, games and in everyday life.
We combine our unique PGC culture with a variety of teaching methods and learning environments to maximize the learning potential of those that attend our sessions. In addition to spending 6-7 hours on the court each day, lessons will be reinforced through classroom sessions and video analysis.
Our goal at PGC is to empower you with the tools to fulfill your basketball dreams, while also assisting you in experiencing the joy of the journey.
To learn more about PGC Basketball, including additional basketball training tips and videos, visit our YouTube Channel or find us on Facebook, Instagram, and Twitter.