The Most Important Lesson on Leadership
A Most Important Lesson on Leadership
A soldier was complaining on the way to a battle as he watched his leader, mounted on a big white horse and carrying a gleaming sword and shield.
"I could fight, too, if I had a big horse and a shiny sword and shield. But look at what I have, nothing but this old rusty sword. What can I do with this?"
When the action of battle got heated, the soldier with the rusty sword threw it down, deserted his comrades, and ran away.
What could he do with only a rusty old sword?
Just about that same time, the leader's horse was struck and killed beneath him, and the leader's sword and shield flew away. The leader found himself dazed, on the ground, and weaponless while his troops began to give ground and feel their morale sink
While scrambling to his feet and trying to stay alive, the leader saw a rusty sword on the ground. He grabbed it and swung it around, hacked his way through the advancing enemy and rekindled the spirit of his men. He spurred his troops on to a glorious victory with the very sword that the complaining coward had discarded as useless or inadequate.
Read More: 5 Ways to Lead Yourself in Practice
My personal introduction to varsity basketball and the battle of the rusty sword bear similarities. Both involved the failure to see the possibilities—the failure being a blindness or ignorance caused by misplaced focus.
A leader must always look for possibilities and opportunities and never give in to complaining or worrying about conditions or circumstances.
Then always look for ways to turn things around, and never sink into self-pity or get discouraged.
My father was furious when I complained about being hit because the alternative was so obvious to him. "You don't have to stand there and let yourself get hit," he had said.
But most people in the midst of some doldrums just don't have the habit of diligently searching for a way out. I can tell the rusty sword story at one of my basketball programs and still have athletes complaining about being fouled in the gym a half hour later.
"Run, move, don't let yourself get fouled!"
I can't emphasize enough that I view this lesson as the most important one I know about leadership, whether you are a player, a coach, a parent, or a fan; and whether you are trying to lead a sports team, some employees, or a group of individuals spread across the nation or planet.
Someone, somewhere, could probably take
your exact same set of circumstances and work wonders.
Certainly all the people around the world, hooked to respirators in hospitals and gasping for breath, would love the opportunity to give it a try. This kind of thought is never far from me. I think it ought to be with every would-be leader. You may not be able to do what you're trying to do, but it probably is do-able.
—Excerpted from the book, "Running the Show."
---
---
Related Articles
The Beauty of the Game | The Leadership Podcast
Mano joins Jan Rutherford & Jim Vaselopulos, on The Leadership Podcast to talk about his sports and business experiences with stories and advice on thinking like a coach, communicating, and making a difference in people's lives.
The Way I End Each Year
For the past few years, I have taken time over the holidays to do the same two exercises: On New Year's Eve I take time to reflect back on the year; then on New Year's Day I take time to create my plan for the coming year. These few hours have become really special to me. In fact, I look forward to them with great anticipation. Looking back on the year gives me the chance to pause to celebrate and appreciate all that transpired. My reflection process is the same each year.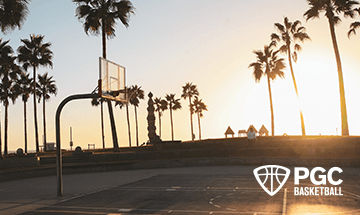 About PGC
PGC Basketball provides intense, no-nonsense basketball training for players and coaches. Our basketball camps are designed to teach players of all positions to play smart basketball, be coaches on the court, and be leaders in practices, games and in everyday life.
We combine our unique PGC culture with a variety of teaching methods and learning environments to maximize the learning potential of those that attend our sessions. In addition to spending 6-7 hours on the court each day, lessons will be reinforced through classroom sessions and video analysis.
Our goal at PGC is to empower you with the tools to fulfill your basketball dreams, while also assisting you in experiencing the joy of the journey.
To learn more about PGC Basketball, including additional basketball training tips and videos, visit our YouTube Channel or find us on Facebook, Instagram, and Twitter.